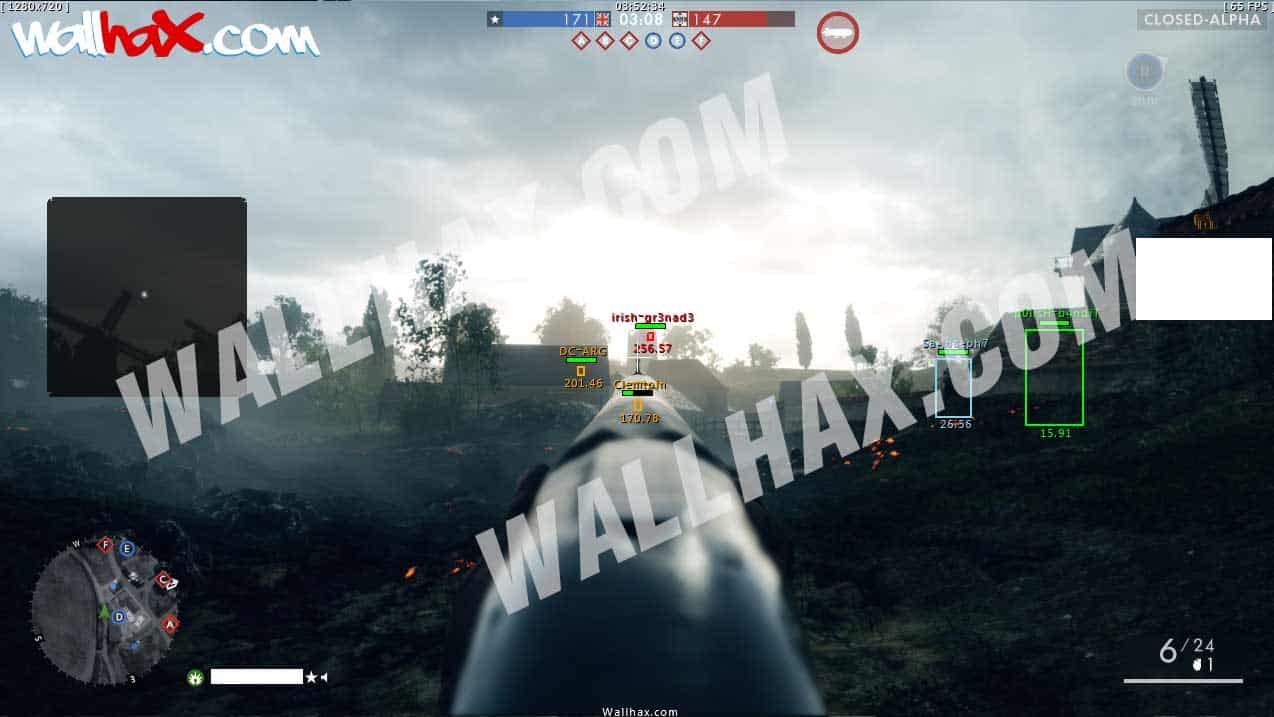 Want to get a BF1 Hack so you can get ahead, dominate in every match you play, top the scoreboards and get more kills than you ever imagined? Read on to find out about BF1 hacks, why you might want to use one, and the safest and best Battlefield 1 Hack!
How to use a BF1 Hack
Most hacks or cheats today are applications you can run on your PC. The BF1 hack at Wallhax is no exception. When you have subscriber access to our site, you'll be able to download our secure cheat client, which is used to load all of our cheats into whichever game you are playing. From the client you can login, select your Battlefield 1 hack, and load it securely into the game. It's really that simple! From there, you can open an in-game menu where you can configure your cheat features, disable or enable features entirely, and load and save configurations. The cheat also comes with settings ready to go out of the box if that's your preference.
It's generally as easy as that! Depending on how you have the aimbot set up, you can enable it with a button press or mouse click, and you can see radar and ESP on your screen that shows you the exact locations of other players at all times, giving you complete game awareness.
Features of our BF1 Hack
As with most Wallhax games we support, our BF1 hack comes packed with features and options so you can configure the cheat to your liking, and have the ultimate advantage in game.
That starts with our aimbot, which features options like Field of View, Aiming Prediction, Bone Aiming, Custom Aimkey support, Bulletspeed and Bulletdrop Compensation, and much more. You can tweak your aimbot to be as aggressive or toned down as you like, depending on how you want to play the game. Some players like to all out 'rage' at all times, while others just want a small aiming assist or nothing at all!
Continuing on, you can configure ESP and Radar settings on other tabs of the BF1 hack menu. Each element of ESP can be toggled on or off, so you can enable or disable features like Box ESP, Nametags, Health ESP, Head-Dots, Spotting, and much more. This lets you personalize the cheat to your own preferences. Some players like to have a lot of information, while others like nearly nothing at all to maintain a 'clean' gaming experience.
There are other settings and features in our Battlefield 1 hack as well, but you can check the Battlefield 1 hack page to see the full features list.
BF1 Hack Advantages
So why use a hack in Battlefield 1? Everyone has their own reasons for cheating, but there are a few common ones.
If you're looking to boost your performance in game, cheating is an easy way to do that. You may be getting frustrated dying a lot and wanting to have more fun in game. You can double or triple your kills or score after using Wallhax's cheat, mow down enemy players and always know where your opponents are.
If you want to impress your buddies or clan mates, they'll be extremely impressed as you take your team to victory, topping the scoreboard and keeping your squad alive as you always know exactly where the enemy is. Be the MVP of your team every game with our Battlefield 1 Hack.
Want to rank up and unlock gear more quickly? Grinding out gear and equipment unlocks can be a bore, and that's one of the reasons DICE adds paid unlocks for weapons and items to Battlefield games. Why pay them money when you can get all the unlocks in game faster than ever before! With our BF1 hack you'll blast through the ranks and earn more score in matches than ever before as you get triple and quad kills and spend far less time waiting to respawn.
The Best BF1 Hack
With Wallhax, get the #1 BF1 Hack for the game. We offer a feature packed cheat that's being continuously updated with new feature additions and kept undetected.
We take user safety seriously and offer a dedicated cheat client that securely injects your cheats in a smart fashion to avoid anti-cheat scans and prevent cheats leaking. Unlike public cheats, our private cheats have a smaller userbase and are much more difficult for anti-cheat developers to access.
Not only that, we code our cheats to be as safe as possible, with minimal code footprint, and features that aren't easily detected. We also update our cheats as we deem necessary to avoid new anti-cheat changes that could compromise the security of other hacks.
With our site, not only do you get access to our Battlefield 1 hack with your purchase, but also ALL other cheats that we support. Whereas other sites offer one cheat per subscription, here you get them all!
Download your BF1 Hack Now!
Ready to download your cheat? Click below to create your account!