Enhance your skills with our private For Honor hack! Get Instant Access!
Execute Your Foes With Our
For Honor Hack Features
Eliminate your opponents even more easily than ever before with our melee assistance features and all-seeing 3D Player ESP.
Play Like A Pro

With Powerful Assistive Features
Win more duels than ever before with the help of our Melee Assistance features, and stay under the radar with NextShield protection.

Auto Block

Guard Break Counter

Controller Support

Player ESP

EAC Protected

Box ESP
Cut down your foes with ease using our private For Honor hack. With our melee assistance features, defeat your opponents easier than ever before. Block every regular attack, and automatically counter the opponent's guard breaks, presenting an impenetrable defense. With 3D Player ESP, avoid being surprised by opponents and track their locations to intercept them at key objective points.
We rebuilt our For Honor cheat from the ground up, removing any unnecessary features or code that increase the risk of detection by Easy Anti-cheat. Furthermore, we have integrated our NextShield protection into the code, adding an additional layer of protection.
Rank Up Fast And
Earn Even More Loot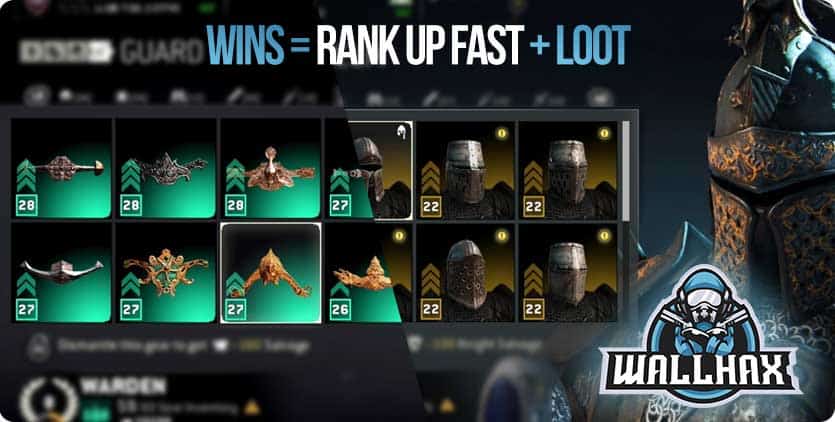 With the help of our 3D Player ESP cheat and Melee Assistance features, easily demolish opponents as you constantly block or counter their guard breaks, then hit back even harder. Win more matches and rank up even faster than you did before. As you top the scoreboards in kills and objective points in each match you play, earn even more steel and loot drops as you win matches! Whether you want to move through the divisions in ranked play, or stomp any newbies you come across, our For Honor hack features give you a distinctive advantage.
Melee Assistance
Boost your in game skills with our Melee Bot features. Wallhax's For Honor cheat includes two key types of assistance: Auto Blocking, and Guard Break Countering.
Auto Blocking will automatically block the currently engaged opponent's attacks if possible. This makes it easy to focus on planning your next attack or countering other types of attacks.
Auto Guard Break Countering will detect if an opponent tries to guard break you, and will counter them instantly, ensuring they can't get in any free hits.
The For Honor Bot Melee Assistance features can be togged on and off via a keyboard shortcut, making it easy to enable or disable these features as needed. In addition, controllers are supported, so you can get all the feature benefits without being stuck playing on a mouse and keyboard!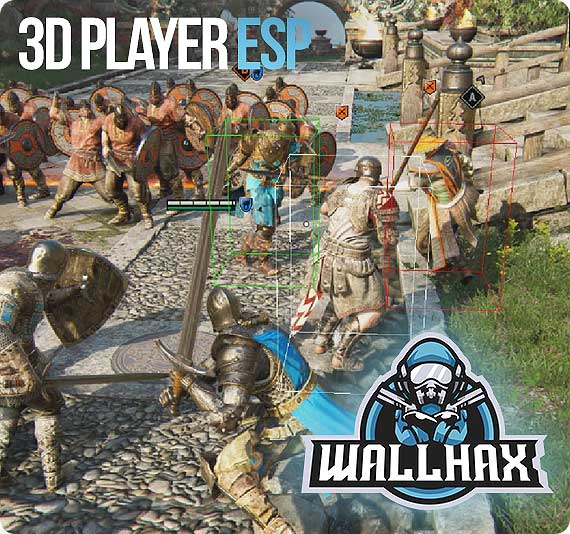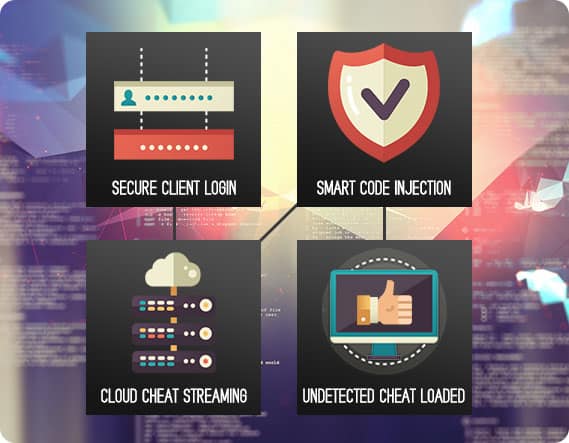 NextShield Built In
Well known for releasing the #1 For Honor cheat at the game's launch, Wallhax has rebuilt the cheat from the ground up, including key features while scrapping anything else that could leave a larger footprint for anti-cheat to find. With a focus on safety first and foremost, our new For Honor cheat uses a light-weight code base without any unnecessary elements. We believe this is a worthy trade-off over flashy graphics and graphical elements that add additional clutter to your screen.
Integrated into the new cheat is our NextShield protection, which adds an additional layer of security to the software for added Easy Anti-Cheat protection. This security layer is exclusive to Wallhax.
Finally, we have made numerous improvements to our cheat client code to make injecting our cheats even more secure, making it even less likely for this to be a point of detection for anti-cheat.
Join our Massive Community,
See What The Hype's About!
Our members explain why we offered #1 For Honor Hack at the game's launch, available again!
I love it
The Blocksysteam Works So perfect 10/10 ... I'm a pro with controller and this bot!
Amazing
The For Honor bot is amazing, especially for the limited amount of time the devs have had to build the bot. The controller support is perfect and I know the WallHax crew put it together quickly. We gave feedback and you listened.
For Honor
Works very good even in early stage. Also devs update/fixs things really fast, listen to feedback and seems like really nice and helpful people aswell.
For Honor
Best one on the market for sure. I made a mistake and bought from other website and it just has a simple blocking option, which doesnt even work, and it sucked. Wallhax for honor hack is amazing and flawless. You can forget about defense and just focus on being aggressive. They also keep making the hack better and adding more features ... LOVE WALLHAX.COM
10/10
For Honor working really well. It saved me alot of times and I even manage to win 2 vs 1 with ease. I also used this cheat for the story mode and it made it so much easier. I like that it's not so cluttered and it really carries me. 10/10 for this cheat.
For Honor Hacking
Frequently Asked Questions
Is it worth cheating in For Honor?
Learning to get better in For Honor can be a lot of fun if you are willing to spend the time, so you don't have to cheat. But, if you want to be able to play a lot better, win more matches, and defeat some of the top players then cheats for the game will give you a big advantage. When you have access to features that will automatically block or dodge for you, you can then focus more on other elements of combat like using attack combos and finding your opponent's weaknesses.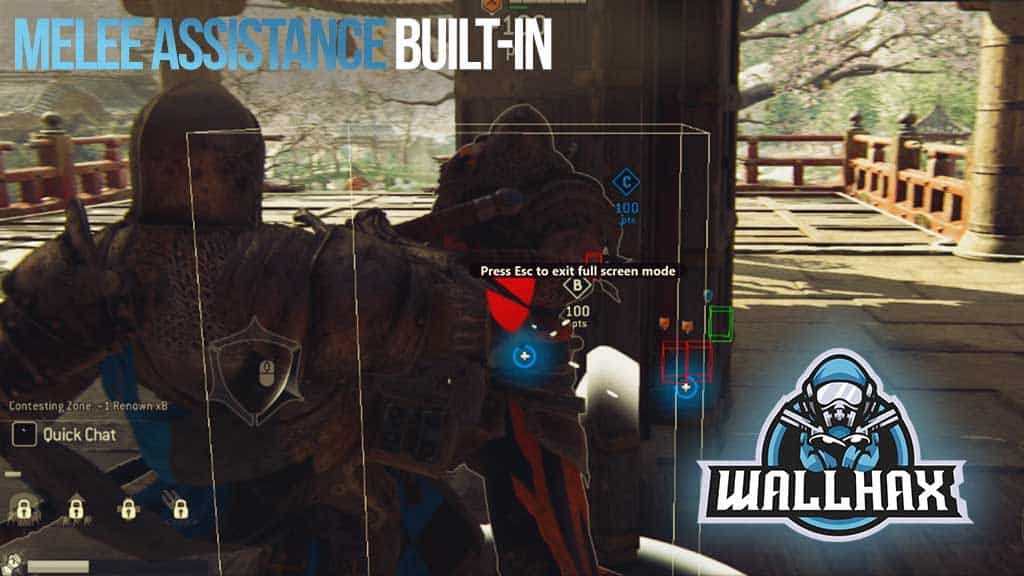 What hack features are available in For Honor?
As 'For Honor' is a melee-focused fighting game, there aren't the usual aimbots you would expect to see in many multiplayer FPS. Instead, with 1-on-1 combat, we developed combat assistance cheat that will help manage some areas of combat. With direct access to the game data, our cheat has lightning fast reactions (faster than most players), making it a perfect companion in online play.
With undefeatable auto blocking and auto guard break countering features, our cheat can immediately increase your skill level.
In addition, player ESP is also included so that on objective type game-modes you can both capture and defend objectives easily, as well as hunt down opponents no matter where they are on the map!
Can I get free For Honor cheats?
Very few if any free cheats are available for 'For Honor', due to the game's anti-cheat client, EAC. This anti-cheat developer is quick to detect free cheats, and they usually do not last very long. Besides that, developing a melee assistance system such as ours is no small feat, meaning that any free cheats may only have very basic features available.
Where can I get a For Honor hack download?
Wallhax is one of the only cheat providers to support For Honor, with our private cheat available as a standalone subscription. Due to the game's anti-cheat. We recently relaunched the cheat after re-coding it from scratch to make it resilient against EAC's invasive anti-cheat methods. Click any button on our website to sign up for an account. After validating your account through your email, you'll be able to subscribe and get immediate access to the cheat!
Why is it I should pay for game hacks?
With today's multiplayer anti-cheat solutions becoming more aggressive at targeting cheaters, fewer and fewer free cheats remain undetected for very long. Anti-cheat developers target these free cheats as they typically have many hundreds or thousands of users.
Private cheat websites offer paid cheats along with professional support, and constant updates which address both game updates and changes to anti-cheat. If you value your account and want the best cheat features, a private cheat is almost always the way to go.
Are cheats in For Honor safe to use?
There is always a risk of being banned for hacking in any multiplayer online game. Anti-cheat developers are trying to catch cheaters and regularly employ new means to try and do so. That said, at Wallhax we have developed our For Honor cheat from the ground up with security in mind. We removed any features we deemed unnecessary or a significant detection risk and included those we thought were most important. With this approach, we've greatly increased the difficulty of EAC detecting our cheat and will remain vigilant of new updates that may compromise security.
★★★★★

based on

20

reviews
Overall rating:
Auto Attack Direction Switching will counter your opponents by switching your attack direction so it never matches theirs, increasing the likelihood of making a successful attack and keeping them off guard.
Auto Dodging will automatically dodge an opponent's attack if matches the cheat's built in database of dodgeable attacks. If an attack is unblockable, the hack can attempt to dodge it.