Guarantee a seat on the chopper with our ROE cheat. Get Instant Access!

Eliminate Anyone In Your Way With Our Aimbot & ESP RoE Hack
Track your opponents from the moment you spawn until you eliminate every opponent on the way to the Heli extraction with ESP. Eliminate each and every one with our deadly RoE aimbot.
Survive To The End
Nearly Every RoE Match!
Unlock the ultimate advantage in Ring of Elysium with our incredibly powerful features that make it easier to survive to the end in each round you play.

3D Player ESP

IceCode Aimbot

Box ESP

Secure Client

EAC Protected

Health Shading
Want the biggest advantage possible in Rings of Elysium? Our private hack gives you that upper-hand in every encounter, letting not only see the locations of all nearby opponents but also making you even more deadly with our lock-on aimbot which makes eliminating your opponents easier than ever before.
Start off every match being able to see exactly where your opponents are as you start picking up items. You'll be able to make the best tactical choice and evade other players until you've picked up some serious firepower, then hunt them down to get geared up fast. Our hacks for Ring of Elysium let you play more aggressively than ever before as you always know where the next opponent is, and can move to flank them and engage them at your ideal range.
Earn credits with our Ring of Elysium cheat faster than ever before, as you win more matches than you ever could by playing normally before. You'll easily win matches and gain tons of kills, getting you even more in-game credits to gear out your character in the finest threads. Whether you just enjoy topping the leaderboards or earning thousands of credits, you'll be one of the top performing players with our RoE hacks.
Aimbot
Silent Aiming (EXCLUSIVE)
Enable Aimbot
Aimkey Lock-On
Field of View
Ping Correction
FPS Correction
BulletDrop Correction
BulletSpeed Correction
Stick to Target
Activation Key
Lock-On Message
Misc
In-Game Mouse Driven Menu
Cheat Watermark
Game FPS
Game Resolution
Current Time
ESP
Enable ESP
Line ESP
Name ESP
Distance ESP
Health ESP
Box ESP
HeadDot ESP
Settings
Crosshair
Save Settings
Load Settings
Move Menu
Resize Menu
Silent Aiming
With our silent aim, bone aimbot, you can acquire targets more quickly, and aim with more accuracy than ever before! If you've ever ended up losing a fight because you couldn't get your crosshair over an opponent before they were able to eliminate you, you'll now be able to turn encounters like this around.
Activate the Ring of Elysium aimbot with your chosen mouse button or keyboard shortcut, and instantly lock on to an enemy, giving you increased accuracy.  Our aimbot doesn't even change your view or move your reticule, and invisibly 'bends' your bullets to fly towards the enemy. Even if an opponent sees you first, you'll be able to almost instantly lock on to them, even if you're not aiming exactly at them.
Our bone aimbot is loaded with features, from the customizable aim key, to settings for FOV, Ping, FPS correction and more. Configure your preferred aimbot settings and save them in the cheat menu to easily load every time you launch the cheat.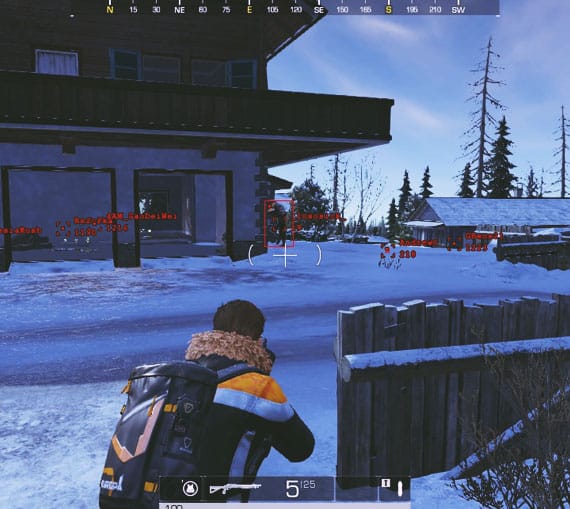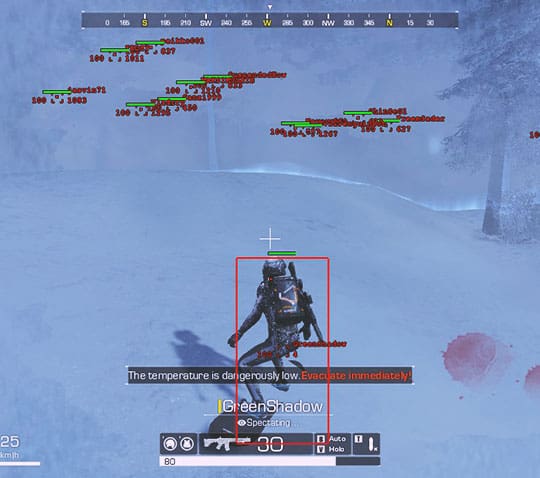 Revealing 3D ESP
Don't get taken by surprise again in Ring of Elysium with our incredibly essential ESP cheats that give you constant tactical information on the exact locations of other players at all times. Whether you're just gearing up at the beginning of a match, or in the final moments of the map trying to take out any competition for the last seat on the chopper, the ESP features always indicate where other players are. With these cheat features, you're always set up for constant success in every match you play, with Wallhax providing the tools to win your next round and load up on credits.
3D Player ESP includes a number of helpful features including 3D boxes, nametags, healthbars and more that you can easily toggle on and off through the in-game menu to give you exactly the visual information you're looking for.
Join The 170,000+ Member Wallhax Community,

Already Dominating The Leaderboards
Find out why Wallhax is a leading private cheat provider for the top multiplayer games!
Ring of Elysium
Silent Aiming unique
Let my game experience be very beautiful
I have used cheat software from many companies and it is no better than wallhax.
JackyJK,
Ring of Elysium Subscriber
ROE Review
aim is good it will not follow target when you put aim at enemy it is like magic bullet , cheat is good
nguyenvantue,
Ring of Elysium Subscriber
Ring of Elysium Review
First of all, after seeing the updates to the game's anti-cheat and no news if the hack is safe or updated, I wasn't so sure if I should buy and use it.
But I can say for sure that it's one of the best hacks ever made.
Everything is smooth, and because I'm playing from out of NA, with my ping it looks legit and it seems quite safe.
AstekCiocky,
Ring of Elysium Subscriber
Ring of elysium
Hacks are working very well
injection is flawless
aimbot is working well
overall this hack is great just like the other products from wallhax works well with no problems
dab,
Ring of Elysium Subscriber
RoE Testimonial
First of all I'd like to say Ring of Elysium is one of the funnest games I've ever played as far as a Battle Royale goes ...
Overall very nice hack and will continue to support/purchase for now; hopefully we can just get a natural aim bot rather than silent aim.
vifil,
Ring of Elysium Subscriber
Ring of Elysium Hack review
So far I haven't had any trouble at all using it. You can adjust the settings to be more blatant or discreet hence the name silent aimbot. If you're good enough to keep your crosshairs generally on the target it doesn't look very suspicious.
bebop,
Ring of Elysium Subscriber
Ring of Elysium Testimonial Review
1. Set-Up/Injection Method: Very easy to comprehend.
2. The features for the hack are quite simple and easy to use within the menu:
- ESP Overall is clean, simple, and with quite the functions to understand the distance, health, line, etc. No Lag or any frame drops from this.
- Aimbot: Still trying to get used to it as it's not working the way I'm trying.
3. The features are quite amazing and I'm yet to see any additional features added to this game!
likas,
Ring of Elysium Subscriber
I LOVE it!!
After playing with the cheese for 24hrs, here is my review. I played 42 games in total, won 11 of them with the cheese ... This is the first time that I am using silent aimbot ingame. I absolutely LOVE this feature. Not only am I trying harder to aim accurately myself but you do not sacrifice the effectiveness of the aimbot. I do find it more effective close range than over long distance, but use the correct weapons and it is extremely effective.
DingDong,
Ring of Elysium Subscriber
Cheating In Ring of Elysium

Frequently Asked Questions
Why hack in Ring of Elysium?
Tired of getting eliminated in the first seconds of a match because someone found a gun before you or got a lucky drop? Annoyed that you're losing due to lag, game glitches, bugs or exploits? With access to a RoE cheat you can start dominating and winning almost every match you play, getting lots of kills, earning a bunch of credits and generally having a great time! Hacks like our deadly aimbot and 3D ESP give you a massive advantage in game, making it way easier to take out every other player you come across and get out on the chopper.
What are the current cheat features for RoE?
With Wallhax's private cheat, you can enable and disable all the cheat features through the mouse-driven in-game cheat menu. That means you can configure individual aimbot features on the aimbot tab, and toggle on and off different ESP options to configure the visuals to your liking. Currently, the main features of the RoE hack are the bone aimbot with a number of customization features, as well as 3D esp. With the combination of these features, you can not only see the locations of all nearby players, but easily eliminate them with the help of the aimbot, giving you a huge advantage in each match you play.
Can I find free cheats for RoE?
If you are dead set against paying for cheats for the game, you can look for cheats available for download from social websites like Youtube, and Facebook. Some people may advertise cheats on these platforms. That said, many of the free cheats available online are fake or may contain malware, as some younger people will download these programs thinking they will work and don't understand that it's risky to download random executables on the internet. So, if you are going to download a free cheat, be very careful to make sure that it's not infected, and also is not detected by the game.
Can I make my own game cheats for Ring of Elysium?
If you're willing to spend months or years learning to code your own cheats, you may be able to do so. To create an engine cheat like the private wallhax hack we offer takes a lot of knowledge about how game engines work, as it's different than a simple cheat made with a memory editor. If you're interested in getting started with game hacking, we recommend a tool like Cheatengine or CheatHappens' CosMOS tool. Understand, however, that using these tools to edit values in Ring of Elysium may get your game account banned, as the game has anti-cheat designed to detect such tools.
Where can one get a Hack Download for RoE?
At Wallhax we only use our own cheats and cannot speak for other hack providers. We offer our own private cheat which includes our deadly bone aimbot, full 3D ESP, and feature customization through our in-game menu.
Why should I pay for game hacks?
Multiplayer cheating is different from singleplayer cheating. If you have used cheats for singleplayer games, you have probably downloaded free game trainers you found online which typically work well and don't risk you getting banned from the game you're playing.
In multiplayer games, games usually have anti-cheat built in to detect cheating. This means you need cheats that aren't detected by the game, and are updated for new game updates and to counter anti-cheat updates. Private cheats typically have coders who work part, or full-time on keeping their cheats working and updated, and often these cheats also have more features. At Wallhax, one of the perks of a subscription is our private forum area where you can find out about the latest cheat updates, as well as get help and support, and be a part of our active community!
Is there a risk of being banned for cheating in RoE?
There is always a risk that the cheat you are using will be detected and you will be banned when you choose to cheat in a multiplayer game. This is a risk no matter whose cheat you use, as one one can guarantee you will not be banned unless they made a deal with the anti-cheat developers (which is basically impossible). You have to be aware there is a chance you could be banned for using a cheat. If you aren't prepared for the risk of being banned, you shouldn't cheat in the first place. Note that Wallhax cannot guarantee your safety and does not offer refunds on memberships if our cheat is detected.
★★★★★

based on

9

reviews
Overall rating: