Become the most infamous with our private SCUM hack! Get Instant Access!
Become A Killing Machine With Our
Aimbot & ESP SCUM Hack
Scavenge and gear up fast, eliminate opponents and rack up hundreds of fame points with Wallhax's powerful private SCUM cheat!
Hunt Down Your Opponents
Get Loot, Get Famous!
Top the scoreboards in modes like deathmatch, or track down other players in the open world for easy kills and loot.

3D Player ESP

IceCode Aimbot

Box ESP

Secure Client

EAC Protected

Health Shading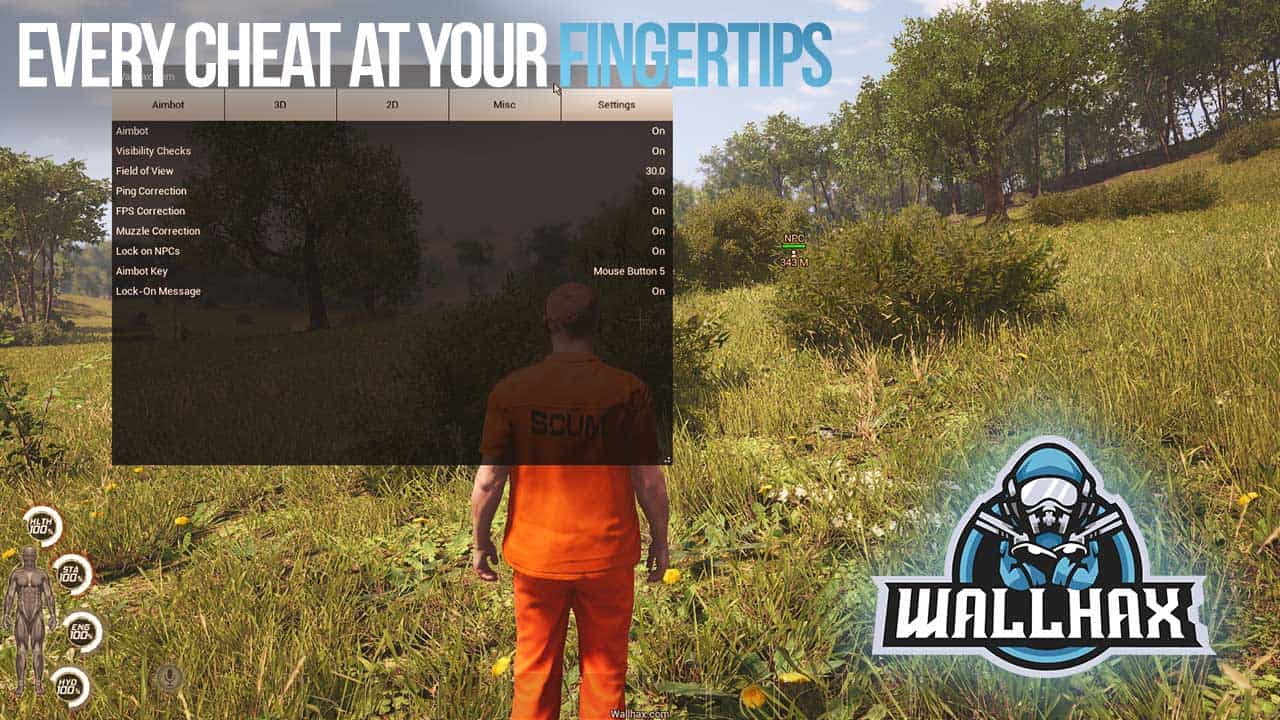 Get a massive advantage in SCUM with fully revealing ESP and the help of Wallhax's deadly bone aimbot. From the moment you spawn in, easily track the positions of players, robots, zombies and wildlife to get geared up fast while staying safe. Then, hunt down players in the open-world for loot and fame, or queue up for PVP events and take out the competition while you top the scoreboard for even more points!
It's dead simple to start cheating in SCUM with Wallhax's cheat. Securely load your cheat into the game from our cheat client, ensuring you always have the most up-to-date hack. Then, configure your features from the easy-to-use mouse-driven cheat menu, or save or load saved settings to return to a favorite configuration.
If you're tired of finding yourself unexpectedly face to face with a giant killer robot, or getting sniped out of nowhere by a camper, it's time to give yourself the advantage with full ESP and our killer aimbot!
Aimbot
Enable Aimbot
Auto Aim
Visibility Checks
Field of View
Ping Correction
FPS Correction
BulletDrop Correction
BulletSpeed Correction
Stick to Target
Activation Key
Lock-On Message
Misc
In-Game Mouse Driven Menu
Cheat Watermark
Game FPS
Game Resolution
Current Time
ESP
Enable ESP
Line ESP
Name ESP
Distance ESP
Health ESP
Box ESP
HeadDot ESP
Traceline ESP
Traceline Size
Settings
Crosshair
Save Settings
Load Settings
Move Menu
Resize Menu
Deadly Aimbot
Instantly lock-on to any target with the help of Wallhax's deadly bone aimbot for SCUM. Loaded with features, the aimbot is incredibly easy to start using, bound to right-mouse by default. If you see an enemy, just hit your aimbot key to immediately lock on, letting you deliver swift death with whatever weapon you currently have equipped.
Configure the SCUM aimbot to your preferences, with a variety of configurable options available through the Wallhax in-game menu. Change FOV, Aimkey, Smoothing and more and find your perfect set-up.
With the aimbot enabled, hunt down wildlife, eliminate zombies and robots in the open world and track down other players. You'll have the upper hand in any encounter with the ability to immediately lock-on to the opponent. In modes like deathmatch, easily top the scoreboards and secure every kill.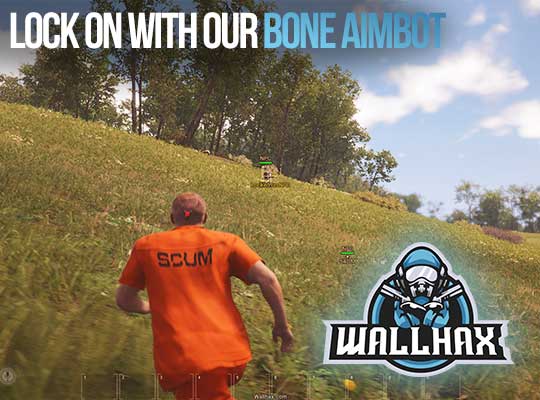 Revealing 3D ESP
Always know what's around you with the help of Wallhax's 3D ESP features. With these cheats, you'll never have to worry about having an enemy sneak up on you or a camper waiting in a bush. With the ESP features like 3D boxes, nametags and health bars, see anything that might move in SCUM, from zombies, wildlife and robots, to other players. Become the deadliest hunter as you track down your opponents and eliminate them one by one, whether they're camping, scavenging, or cooking meat at a fire. And if that isn't enough, in any event like deathmatch, see the locations of all other players so you can easily take them out. Win first place each match along with all the rewards that come with that!
With 160,000+ Members So Far,
Don't Miss Out On The Fun!
Find out why Wallhax is a leading private cheat provider for the top multiplayer games!
Scum review
For the life of me, i could not find a site that had a working hack. Untill i saw that wallhax had one.
After asking if the anti cheat was beaten, i decided to buy it straight away and go with it.
I am not dissappointed at all.
The item teleported works flawless, because of that, as a fresh spawn, i was able to get fully geared, and all i did was just run around a bit ... all i can say is....I highly recommend the scum hack from wallhax. No question about that.
SCUM Hack Review
ESP: 10/10
Works great and is extremely customizable. Item ESP works great too.

2D Radar works great and is very basic and I like that.

I try to keep the blatancy down to an extreme minimum when using this stuff which is why I only use the ESP. Just my personal preference! Overall a great hack and will definitely come back to wallhax for more!
DeviantGremlin,
SCUM Subscriber
SCUM Review
Aimbot - 10/10
ESP - 9/10
ESP TP - 10/10
Cheat Security - 10/10
I think it's a very good cheat, it gives you what you need without being one of those ridiculous crazy cheats where you can kill the entire server in the matter of a minute and have everyone screaming your name in the chat (which would probably see you banned from the server). I would like to see a couple of more features added such as unlimited ammo, also some sort of feature which allows you to get around the map a bit quicker.
Scum Review
esp (9/10) works great only thing is the weapons dont show up atm but im expecting that to be updated in the future
esp tp (10/10) amazing feature very useful in this game
inf ammo (10/10) love how you just press delete key dont even need a magazine in your gun and you get a full clip
My honest SCUM review
I have to say, I was a previous user on another provider and I am so glad that theirs went down! Having found WallHax it has provided me with easy to use cheats and fully functional!
Aimbot - 9/10
ESP - 10/10
Misc - 10/10 (Love the TP items to my player) that has saved me loads of walking time
Security - 10/10 (So far so good, had no issues using/launching the cheat and it is very easy to follow the simple instructions)
FrogJump,
SCUM Subscriber
SCUM Hacking
Frequently Asked Questions
Why use hacks in SCUM?
Cheats for SCUM will help you survive longer, earn tons of fame points, and have more fun in the game's PVP. In SCUM, you start off having to gear up a character, and death is always a possibility if you are swarmed by zombies or hunted down by one of the giant killer robots in the world. With ESP features, easily avoid these threats until you have some firepower under your belt. With the help of the aimbot, you can earn tons of fame points to progress in the game faster than you ever could before, whether that's by killing NPC enemies, topping the scoreboards in PVP events, or tracking down other players in the game world.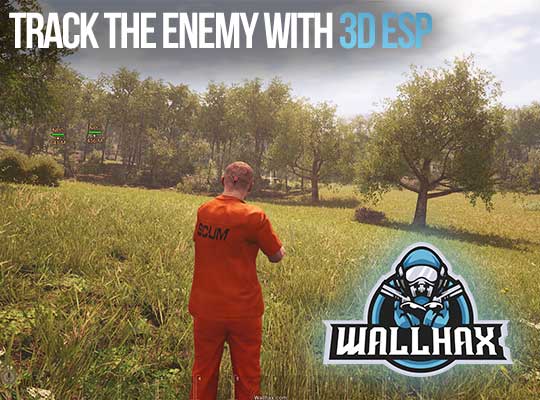 What are the current SCUM cheat features?
In Wallhax's private cheating tool, you can access all the features through an in-game menu where you use your mouse to enable and disable individual features. For the most current list of cheat features, scroll up the page to our main features list. However, the most important features are the bone aimbot and 3D ESP features. With an aimbot you can easily lock on to other players in the world of SCUM, giving you much greater accuracy than aiming by hand. And with ESP, see the locations of all other players and NPCs around you, so you don't get sniped from a camper in a bush, hundreds of meters away!
Can I find free SCUM cheats?
You may be able to look for SCUM cheats by searching on websites like facebook and youtube for links to these cheating programs. But beware! Many of the 'free' cheats are actually just viruses or someone trying to get you to fill out a survey, just to download a fake program. With free cheats, you can never trust that you're getting a legitimate piece of software or it isn't packed with a virus or malware. Another risk of free cheats is the increased likelihood of detection. These cheats are easily found and downloaded by anti-cheat developers, and usually are detected quite quickly after being released.
Where can I get a SCUM hack download?
At Wallhax we offer a hack for SCUM, which is packed with features, and includes forum support in case you run into any issues. If you want to sign up for an account with us for the cheat download, scroll down and click the button below to create your account!
Is it worth paying money for game cheats?
For many singleplayer games, you can find plenty of trainers as these games don't mind if you cheat locally. It's also very easy to edit the game memory in singleplayer titles without a server component.
This changes for multiplayer games where cheating is against the rules. The game developers will do their best to detect any players using gaming cheats, so free cheats are often quickly detected, and using them can cost you your game account and all your in-game progress. For this reason, Private cheat sites have become more popular as anti-cheat improves, and typically offer more features, better support and help, and improved security.
Can I be banned for hacking in SCUM?
You can always be detected and banned for cheating in online games. The possibility is always there. When deciding whether to cheat, you have to decide if you are willing to lose your game account. If the answer is no, you shouldn't cheat, because there is always a risk of this happening. At Wallhax, we put a focus on developing cheats that are safer, with multi-layer security coded into the cheats as well as our cheat client. We know it sucks to lose a game account and do our best to keep our software undetected.
★★★★★

based on

5

reviews
Overall rating: