Want to dominate in Dark and Darker with the most powerful cheat engine delivering game-breaking features like fully revealing ESP (Enhanced Sensory Perception), on-screen 2D Radar hacks, Wallhacks and more? Wallhax's framework powered cheat engine can give you the maximum advantage in the game so you can fill your inventory with loot every match, take out entire teams, and get out with the bag.
Why Play Dark And Darker With Wallhax?
Dark and Darker is a unique and thrilling gaming experience that offers players a variety of different challenges, from intense confrontations with other players to scavenging for treasures in chests, vases, and other breakable items. The game also offers a great team-based experience with a variety of different character classes you can level up as you delve into dungeons. With Wallhax's cheat engine, you can gain maximum advantage over other players and dominate every match you enter, giving you the opportunity to reap the rewards of your victory.
Why Use Cheats In Dark And Darker?
Cheats can provide a great way to level the playing field and give players a more enjoyable gaming experience. With Wallhax's cheat engine, see exactly where other players are around the map, so you can either hunt them down, or easily avoid them until you're geared enough. 3D ESP lets you see the locations of NPC monsters as well, so you know what you're walking into before you take on a horde of spiders or skeletons and mages.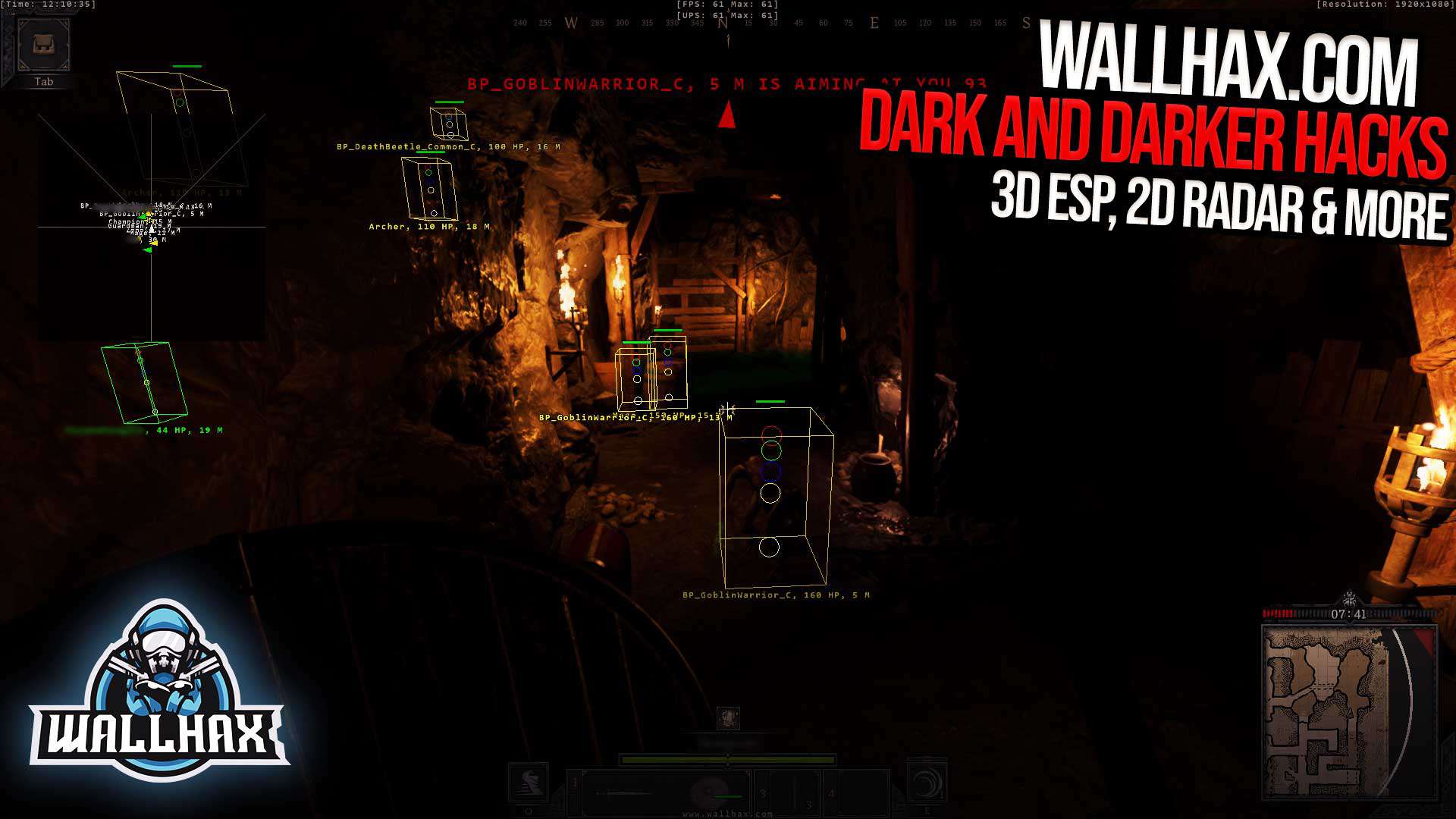 What Are Wallhacks?
Wallhacks are a powerful feature of our Dark and Darker hack allowing you to see through walls and other obstacles to gain full visibility of the map and other players. This type of cheat is especially useful for scouting out enemies in an ambush, or to find the best items and locations to loot, giving you the upper hand in any fight. Wallhax's cheat engine also offers customizable ESP, allowing you to select what you can and cannot see, so you can easily adjust the cheat to fit your play style.
The Dark and Darker hack is powered by Wallhax's cheat framework, a feature-loaded codebase that ensures you have tons of options to customize, all accessible through an easy-to-use mouse-driven in-game menu. You can use the default options that work great out of the box, or you can go in and customize every feature to your liking.
Also important is that the cheat framework is designed to be lightweight and coded with anti-cheat in mind, minimizing the risk of a cheat detection. At Wallhax we have a great track record of keeping our users safe and undetected when using our game hacks.
What Makes A Great Cheat Engine?
A great cheat engine is one that offers a wide range of features that can be tailored to your individual play style. It should also be lightweight so that it doesn't drag down your system's performance and make the game run slower. And, of course, it should be coded with anti-cheat measures to minimize the risk of detection. Wallhax's cheat engine for Dark and Darker offers all of these features and more, giving you total control over your gaming experience so you can dominate every match you enter.
With Wallhax's Dark and Darker cheat engine, you get powerful features like a customizable aimbot, ESP, and more, all tailored to fit your playstyle. And, to ensure you stay undetected, the engine is constantly updated with new anti-cheat measures. Plus, it won't slow down your system, so you can keep your gaming performance at its peak. For the ultimate gaming experience, choose Wallhax and dominate the competition! Learn more on our Dark and Darker Cheats page.